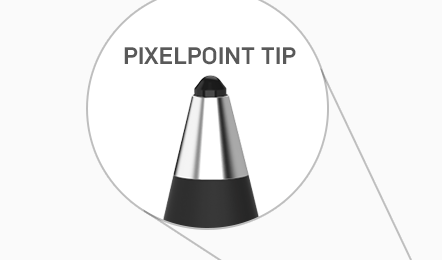 When I first learned about the release of Adobe's niche stylus, Ink & Slide, I was amazed at the potential such little tools could offer. After watching a the introductory video I was sold and this little device would soon be part of my creative toolkit. I ordered the Ink & Slide and during the unboxing I was immediately impressed with the presentation and packaging of the box. Kin to Apple and their functional packaging and design, I expected some well designed and quality tools built for professionals that would hold up to some creative abuse (esp with a $200 stylus price tag).
My first impression
Using Adobe Line with the Slide tool was really an effective and considerable enhancement to my drawing approach. It also offered me the ability to work on creative projects away from my desk which is a huge plus for a tall guy like me. The first thing I noticed about the slide was a rattling function button that did not match the quality of the same button on the Ink. I emailed Adonit but the rep assured me there was nothing wrong with it. Setting aside my compulsive attention on little problems, I went ahead with it knowing that overall this a great enhancement to my workflow.
Bugs in the charger
After about a month or so with everyday use of (mostly) the stylus, I started experiencing issues with charging. According to Adobe the stylus LED light should "pulse" red until it's charged then it will display a color spectrum when charged. Mine appeared to be fully charged but after a variety of attempts trying to get it to connect with Line again, I started realizing there was an issue. Doing what a modern creative does, I got on to the Adobe forum and started seeing others with similar charging conundrums. I was surprised to see so many problems after a new release…then I remembered my golden purchasing rule I had broken myself—never buy the first of any product. In my experience it's best to wait until the bugs get worked out of any first of its kind product release. This goes for any product including cars.
Move over for something better
I had no choice but to send my Ink & Slide back for a refund. Now that I'm hooked on this idea of a great stylus that works with Creative Cloud and Adobe Line I was a bit disappointed so I started looking at other styli Adonit had to offer. After some research and watching a few videos highlighting the the awkward Jot Pro with clear disc (video below) and their best all around—the Wacom Bamboo—I felt that was my best option and I'd have to wait for the next big thing.
That video was a bit out of date, I noticed on Adonit a new stylus fresh on the market — the Adonit Jot Touch with pixel point technology and of course, works with CC. My hopes are back up again. The fine people at Adonit gracefully refunded the full amount for the Ink (including international shipping to Taiwan) and refunded the difference for the $120 Jot Touch. Back in business!
Introducing the awesome extension of my hand and right brain
I received this little buddy in the mail and first impression left me not impressed with the packaging and presentation (in contrast to Ink & Slide) but once I felt this thing in my hand and sensed the quality of craftsmanship I was sold. Compared to the slippery and light feeling of the Ink, this Jot Touch has a nice solid weight and a comfortable rubber grip with effective placement of finger buttons. The hard tip allows for great control and precision (without a goofy clear disk) and has a very simple charging USB station. The Jot responds beautifully and is the closest thing I've experienced to an actual pencil or marker.
Conclusion—don't waste your time or money
If you're a creative in the market for a professional artist stylus for the iPad, look no further than the Adonit Jot Touch with Pixelpoint technology. This stylus is packed with awesomeness and has a very natural and solid design. It works flawlessly with Adobe Creative Cloud and other great apps like Procreate. The Slide is cool but ends up another piece you have to lug around, worry about and probably break, plus I find my fingers work really well with the ruler tool in Line. My only wish for Jot Touch is for the next version to come with a functional protective clip case for traveling.
On an aside, I really appreciate Adonit for providing great customer service and making it right without questioning. 
—Happy drawing!